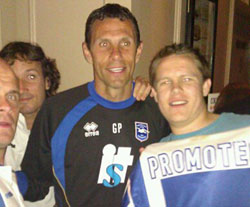 An innocent couple of beers post-Dagenham and Redbridge game to celebrate promotion for the WeAreBrighton.com team somehow turns into a night of drinking with the heroes of what will surely become Brighton and Hove Albion's third title-winning side of the Withdean era. What a surreal evening...

Drinking on a school night is not something that the guys at We Are Brighton would advocate. Sometimes though, even with the perils of work to come the next day, there is a pretty decent excuse to go out and enjoy a late night and a few beers - Tuesday 12th April was such an occasion.
As if the thrilling 4-3 victory over Dagenham and Redbridge didn't require a stiff drink to sooth the nerves after the rollercoaster ride both teams put the sold out Withdean crowd through, the fact that it clinched promotion back to the Championship after a five year absence meant that a few celebratory drinks were more than justified.
After giving a, frankly awful karaoke performance in the King and Queen, we headed to the notorious West Street to Oxygen Bar for a couple of shots to round off the evening. Or at least, that was the plan. Unfortunately for those paying our wages a few hours later, we bumped into first team coach Charlie Oatway and striker Chris Holroyd, who not only informed us of a party involving the entire squad and backroom team in a nearby bar, but also told us that we would be more than welcome to come in for a couple of beers. Bang went the plan to head home at a sort of reasonable hour, then.
Not only were the entire squad in there, but one member of the Bloom family had also put £2,000 behind the bar for the players to enjoy a well deserved drink or ten. And enjoy it they did. Adam El Abd was carting about a two litre bottle of vodka. Martin Perry no less was defying his executive image to pull some pretty sick shapes on the dance floor. Gus Poyet was looking very pleased with himself in the corner, before informing Brett Mendoza that he is a fan of his Sky Sports Blog. Ashley Barnes even grabbed one member of WeAreBrighton team for a quick dance. And best of all, some members of Gully's Girls were there!
The party continued in the street after the bar decided to shut, with Bennett leading more chanting before we bid our farewells, thanked the players for a wonderful night and went for a 3am Buddies Breakfast where we were joined by none other than Fran Sandaza.
The players would have enjoyed their well deserved night out and day off - we on the other hand, found work a bit of a struggle the following day after getting in at 5am. It was well worth it though. Bring on the Champions party!